0 < 1000€ Gulets
If you have never been on a gulet before then you will have quite a surprise, these stately schooners are less sailing boat and more sumptuous wooden built yacht!
As a group of friends or family you can book your gulet depends on your group size and budget.
Life on gulet is taken at a fairly slow pace; on waking up you may find that you are no longer in the bay where you fell asleep, the Captain has moved the boat
to yet another pine clad bay where there is little but the sound of goats from the hillside and the lap of water against the boat.
As soon as you arise coffee and tea are available, this is the best time for a swim, the sea is pond like at this time of the day, there's hardly a ripple to be seen and
hardly a soul to share the clear blue waters with, peace, quiet and the promise of a great Turkish breakfast to reward your exertions. Once everyone is assembled then
breakfast can be served – all meals are served at a splendid, shaded large table situated at the aft of the boat. Breakfast is a delicious selection of Turkish cheeses, olives,
tomatoes, eggs and…. where on earth did the Captain find fresh bread in the middle of nowhere?
By the end of the week you'll have seen the enterprising souls in their speed boats from local villages who deliver to all the gulets in the areas. In the afternoons they deliver ice creams too.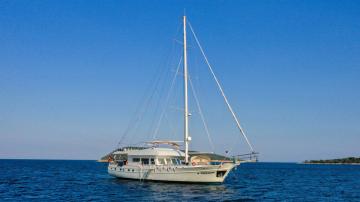 33
9.5 mt
12 Guests
6Cabins
Love Boat
4000$ / per day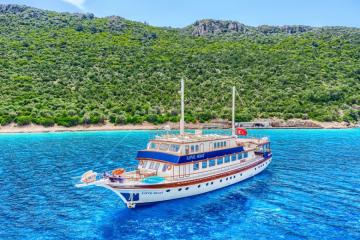 40
9.5
36 Guests
16Cabins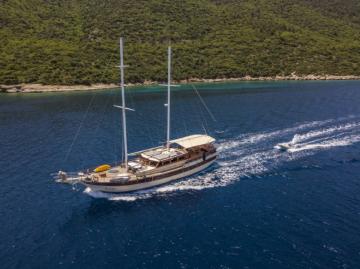 The rest of the day ahead of you there are some hard decisions to be taken….should you read a book on a sun mattress at the front of the boat or curl up in the huge cushioned
area at the back of the boat? Should you be active and take one of the toys – kayaks and wind surfs and paddle/speed
across to the other side of the bay or should you take a lilo and simply float around. As veteran Blue Cruisers
our mornings are spent enjoying swimming and snorkelling, kayaking and fishing until lunch time. There's competitions, best dive, fastest kayaker etc.
Despite the breakfast, probably due to the fresh air we are all starving by lunchtime and
once again we are presented with a delicious selection of Turkish specialities. Meze dishes, stuffed peppers, savoury pastries and salads, crisp white or rose wine,
fresh fruit and then for us….. it's quiz time and we rarely leave the table before 4.00pm when the heat of the day has passed and it's time for more swimming, snoozing, curling up with the book etc.
In some bays there are antique ruins, unexcavated and often overgrown with sweet smelling thyme and oregano and the Captain will run you to the shore in the tender boat.